Shop a similar look here
One of my biggest pet peeves is disorganization. I like everything to be neat and clean, completely organized at ALL times. Now obviously there are a lot of times where my room is a complete mess, my jewelry drawers are all unorganized, and my closet looks like a tornado hit (that typically happens on shoot days), but for the most part I like to think of myself as an organized person. Being a blogger definitely has a lot of perks, and being able to work with brands on the daily truly is a dream. But with that being said, I do get A LOT of products. Clothes, shoes, bags, makeup, skincare, everything!! And no, I'm not complaining at all 🙂 I am truly grateful, I'm sure you can see why it is so important for me to stay organized and basically on top of my shit.
Obviously it is important to be organized in all areas of your life, but for today's post I want to focus on organization tips for your room. Let's get started!
ORGANIZATION TIPS:
1. The first and most important step to take is to DECLUTTER. Get rid of the junk! My rule of thumb is if you haven't used it within the last year, then you probably won't. Now don't get me wrong… I have a huge problem with this. I have such a hard time getting rid of things. I go through these phases where I'm like f*** this, everything in my closet needs to go! And then I bag everything up and put it aside. The next day I'm like uhhhh I don't know if I want to actually get rid of that.. "maybe I'll wear it" or "maybe it'll come back in style." I'll never forget about two years ago I finally got rid of all my denim skirts, and of course that summer denim skirts were back in style and everyone was wearing them. UGH. But you can't think like that. I'm getting better and better of getting rid of things, and I frankly I don't really have a choice. I only have so much space and I am always getting new pieces so I need to get rid of the old ones to make room for the new ones. Easy as that. Of course we all have those pieces we can't just "get rid of" so I definitely recommend selling them on apps like Poshmark or Depop. I use Poshmark religiously and I love it. (Check out my closet @samiraradmehr).
2. Invest in organizational pieces. By this I mean, storage boxes, acrylic makeup and jewelry display boxes, shoe storage, drawer dividers, ANYTHING to get you organized!! My favorite places to shop for these things are Homegoods, Bed Bath & Beyond, IKEA, and Amazon. These places are seriously the best! Homegoods especially, it's my favorite place. I'm like a kid in a candy store when I'm at Homegoods haha. Sometimes you have to get creative when it comes to organizing, I saw this cake tower (see photo below) and was like I need this to display my nail polishes and perfumes. So I got it and did just that! Also, dividers for your drawers really help. I get mine from IKEA and put them in all my drawers, it helps to separate intimates, bathing suits, and workout pieces. A great organizational piece for shoes is the hanging shoe rack. Put it behind your closet door and you instantly have more space for shoes, OR anything else you want to organize such as jewelry.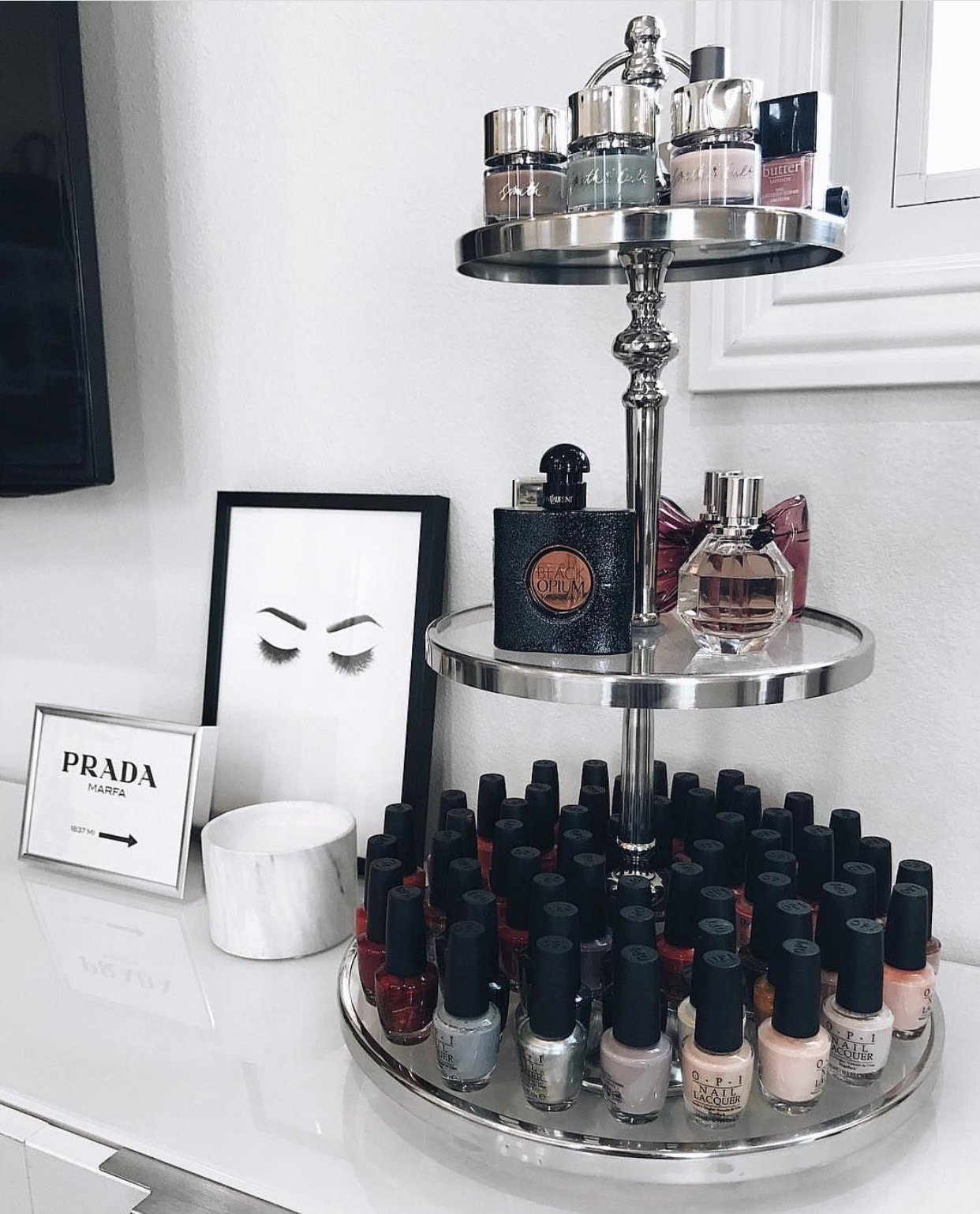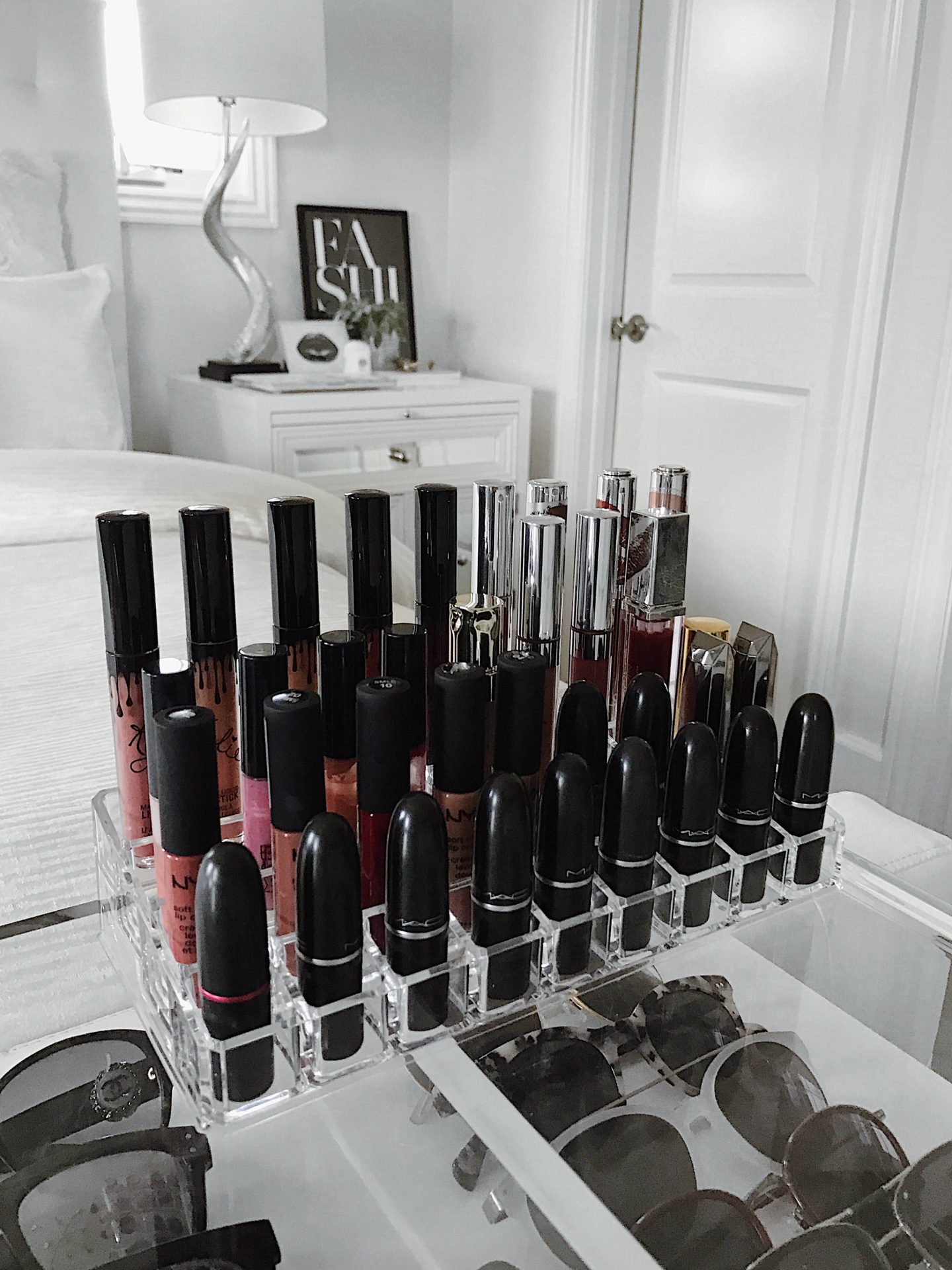 3. Add shelving units to your walls. I recommend going to IKEA for this. They have a ton of options in all different colors and they are so affordable. I really took advantage of this in my bathroom because I was running out of space for all my products. I bought a medicine cabinet and two shelving units and have SO much space now. It was life changing seriously!! Also, shelving racks are great for displaying bags and hats. You guys loved the one in my room I posted, I got it from Homegoods, but I saw a very similar one at IKEA (see first photo above).
4. This is kind of similar to shelving units but invest in a closet unit. Whether you get shelving or have a company come out and design a new closet for you, I definitely recommend it. I had Closet World come and do my closet but it wasn't the cheapest option. You definitely don't have to break the bank for this. If you go to IKEA, their sales reps can help you set up and basically build your own closet. It is amazing, but does require a lot of work!
5. Color coordinate your closet. I am so OCD when it comes to this. My closet has to be color coordinated at all times, organized by style, occasion, and the season. But just color coordinating your closet makes all the difference! Trust me! Also, one big tip I learned over the years is to invest to velvet hangers, not the plastic white ones. The plastic hangers literally take up double the space, the velvet ones are so thin and really make all the difference. Plus they look super chic! I get mine in large packs from Costco.
6. Store items you don't use on the daily under your bed. You can even buy those under the bed storage boxes to keep your items from getting dusty. This is great for those OTK boots that have no space in your closet.
7. Put hooks in your bathroom, closet, and anywhere in your room. These are great for hanging robes in the bathroom, handbags in your closet, and so many other things!
8. Use storage ottomans and footboard storages. Not only do they make great decor, but they double as a storage unit. Win win!
9. Get a vanity or desk. This can double as storage space for your makeup, but also as a place to get ready. I am OBSESSED with my vanity because it does three things in one. Not only does it have two drawers for all my beauty products, but it also has this layer of glass for me to display anything and everything! I use this to store my sunnies and seriously get SO many compliments on it.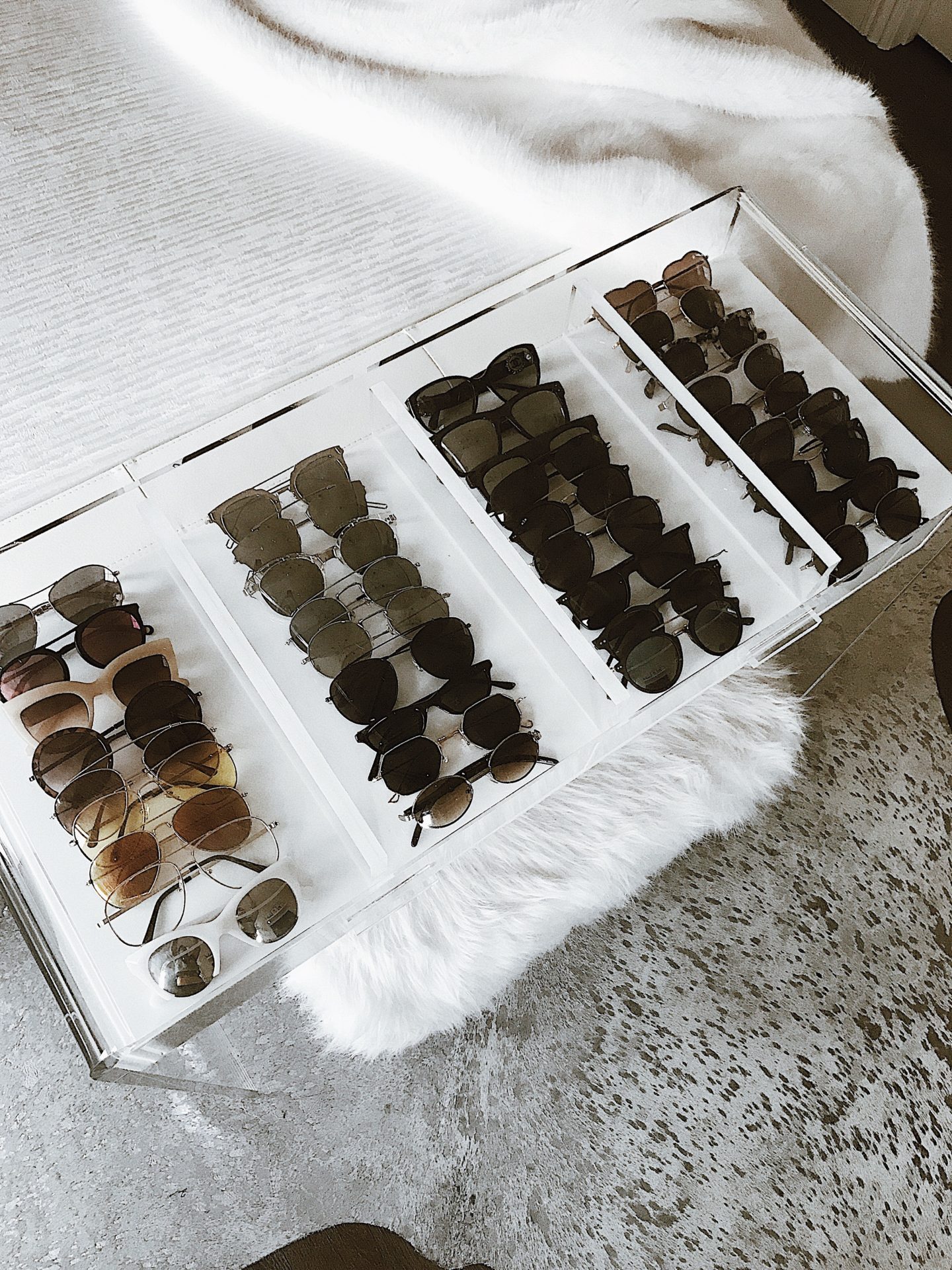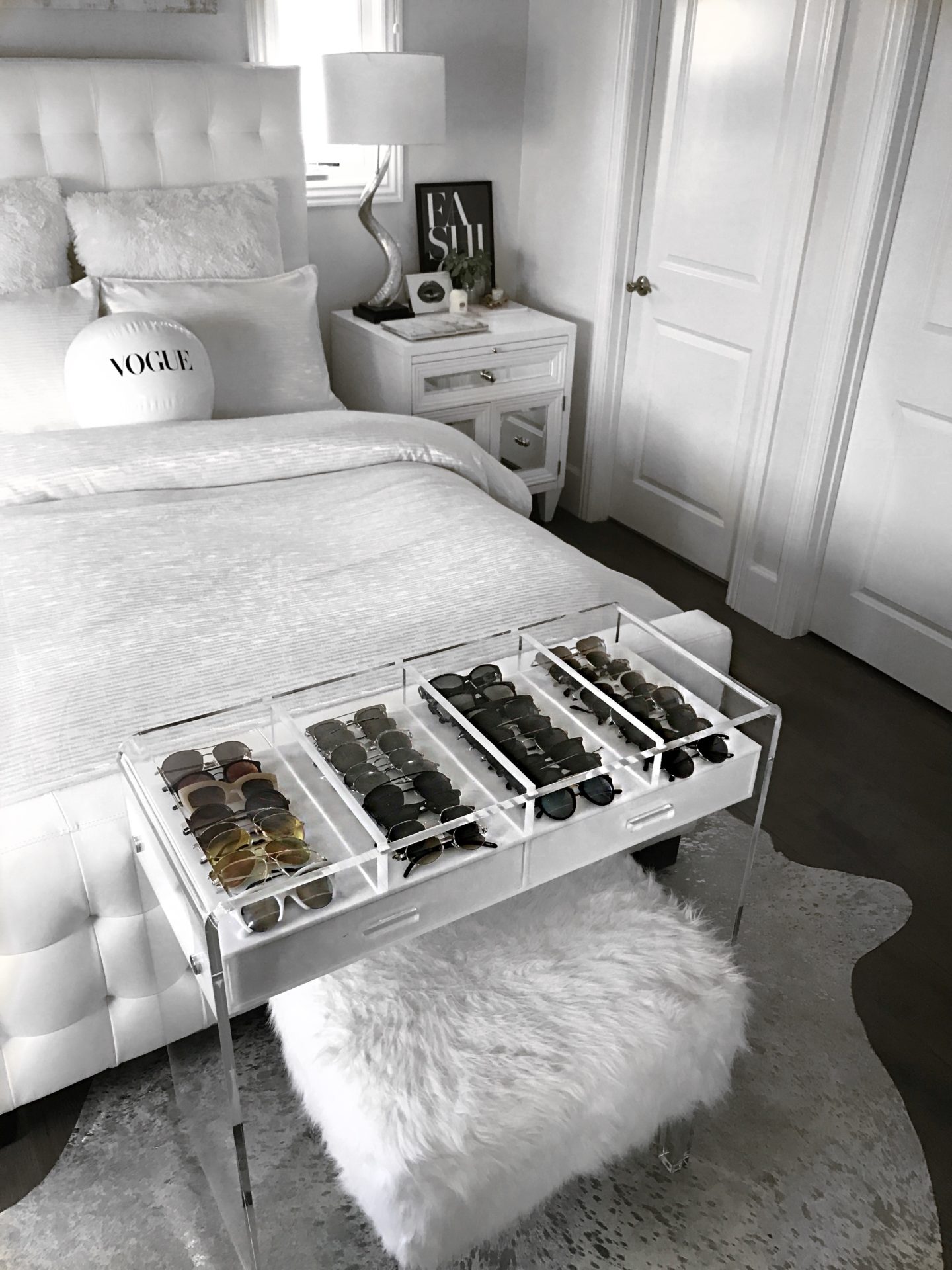 Similar option here
Ultimately you have to find what works best for you and your space but these tips are what has helped me stay organized over the years. I would love to hear your thoughts on this and if you guys have any other tips, please share them 🙂
SHOP:
Thanks for reading! Xo, S
SaveSaveSaveSave
SaveSave
SaveSave
SaveSave
SaveSave
SaveSave
SaveSave
SaveSave
SaveSave
SaveSave
SaveSave