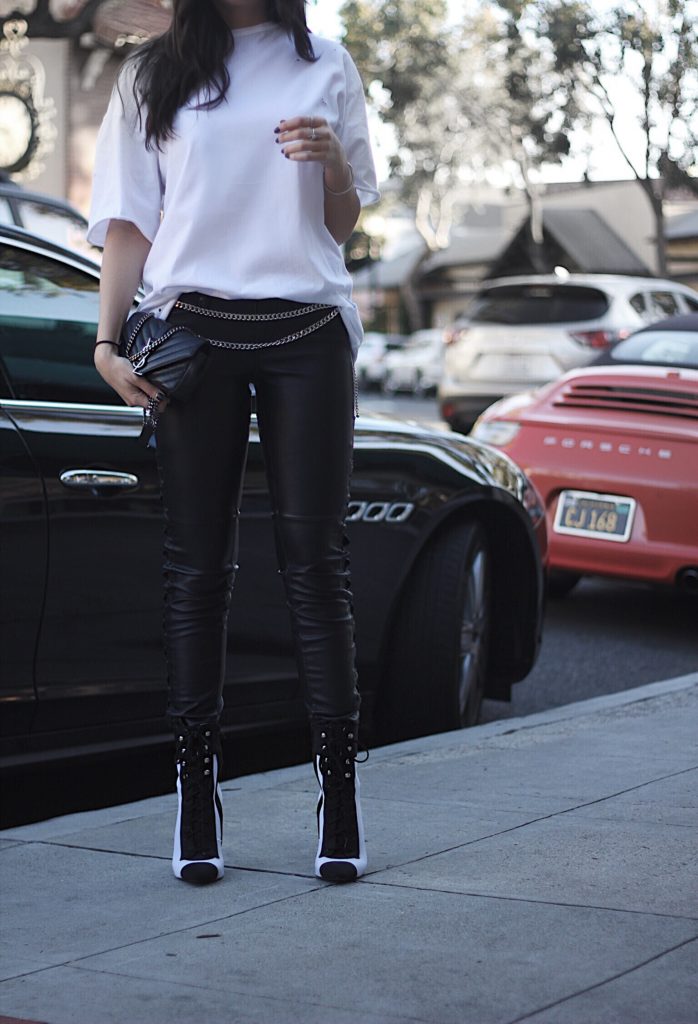 If you couldn't already tell, I love leather. I pretty much live in my leather jackets, hence my blog name. I believe every wardrobe needs a leather jacket, whether its real or faux, it is a statement piece for everyone regardless of your style. So today I want to tell you why you need leather pants in your life. Whether you opt for faux or prefer real leather, you can get the look at any price point, in any style. So there's no need to break the bank just to rock this trend. Leather pants are something that will never go out of style. They are timeless and can be styled in so many ways. You can dress them up with heels or dress them down with sneakers. You can be edgy or feminine, sporty or chic. The options are endless. The reason why I love leather pants is because of that versatility. I usually like to dress more edgy so they are perfect for that look; and for those days that I want to be kind of girly but still stay true to my edgy style, I pair it with a cute blouse and I'm good to go. Now if you are willing to pay the price for real leather pants, it is a good investment. You will get as much use out of it as you do your leather jacket. It will last for a very long time and will never go out of style.
Here are some tips I suggest if you are looking to purchase real leather pants:
1) Opt for something more simple if this is your first pair. Of course pick the silhouette you like best, whether it is skinny, flare, bootcut, whatever that is – go for it. But stay away from the embellished or super trendy pieces. If you're spending that much and it is your first pair, you want it to be something simple and versatile. More often that not, the super trendy pieces are so fab for a season or two, but after about a year you will probably get over it.
2) When it comes to leather pants, it is all about the way it fits. You don't want anything too tight or too baggy. Try on as many as you need until you find the perfect pair. Also keep in mind, leather does stretch. So if you're in between sizes, I would suggest going with the smaller one since it will stretch a bit.
3) Keep in mind, you need to maintain your leather. I recommend buying a good leather cleaner for those times you need to clean a spot or something. Otherwise, take it to a local cleaner that knows how to treat leather.
——
If real leather pants are not your thing for whatever reason that is, not to worry! You can rock this trend with faux leather pants. Now when it comes to faux, since you won't be spending a TON, I definitely would try some fun and trendy pairs. This way you won't feel bad when you get over them in a year haha.
When it comes to styling this look, here are some of my favorite ways to rock it:
1) Casual with a band tee, crop tee, or denim jacket
2) With something pink for a more feminine touch
3) A blazer for a sophisticated yet edgy look
4) Sweatshirt for a laid back look
5) A furry or patterned coat
For today's look I styled my pants with a distressed tee, chain belt, and two-toned booties.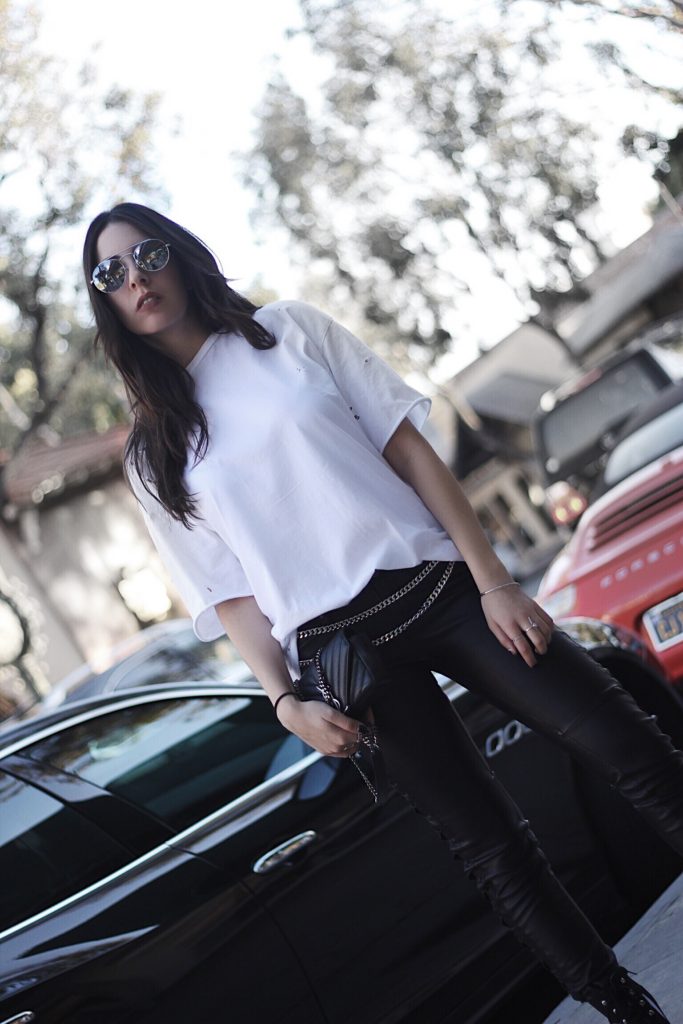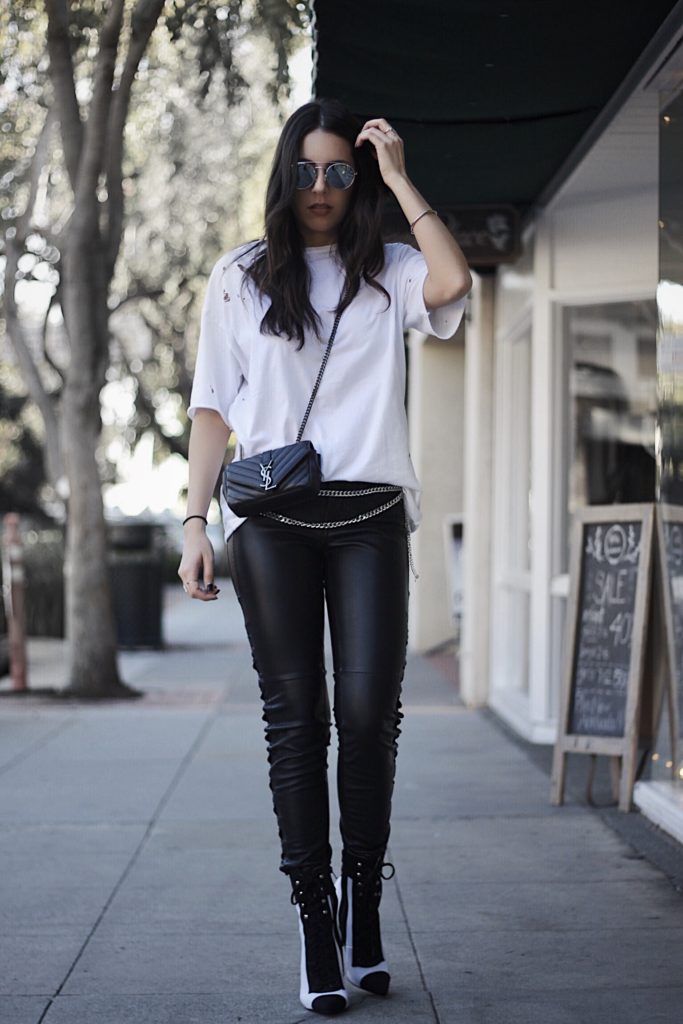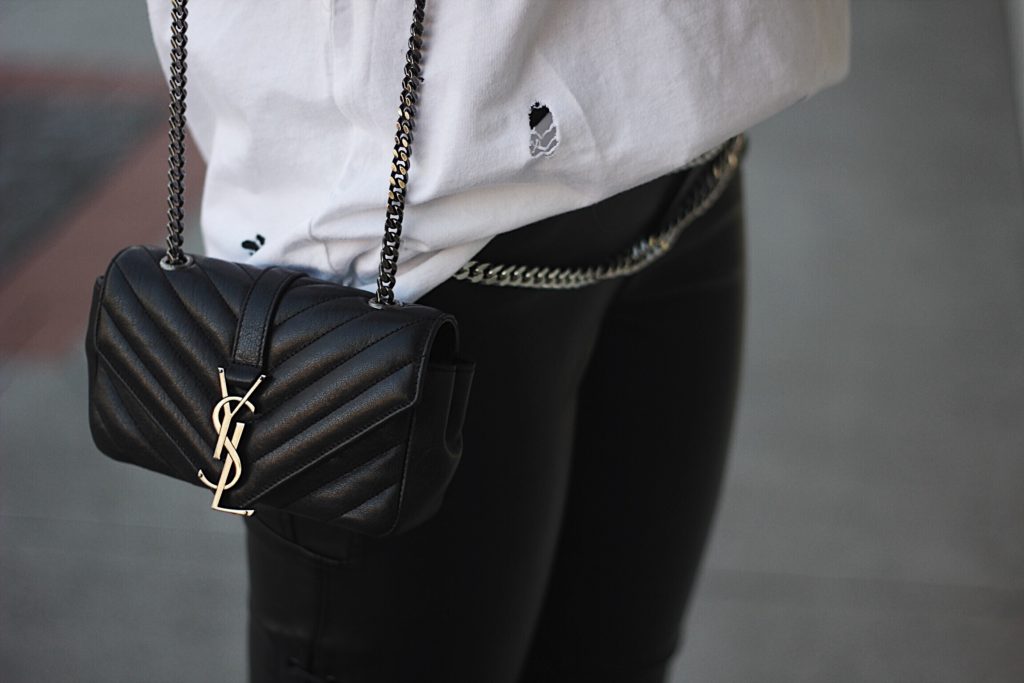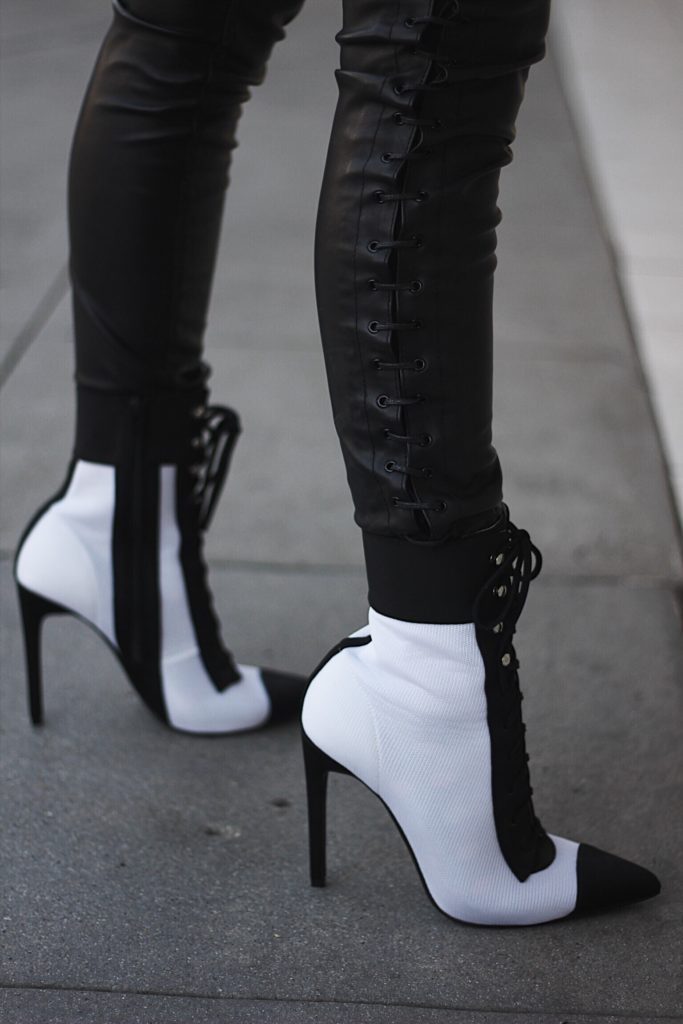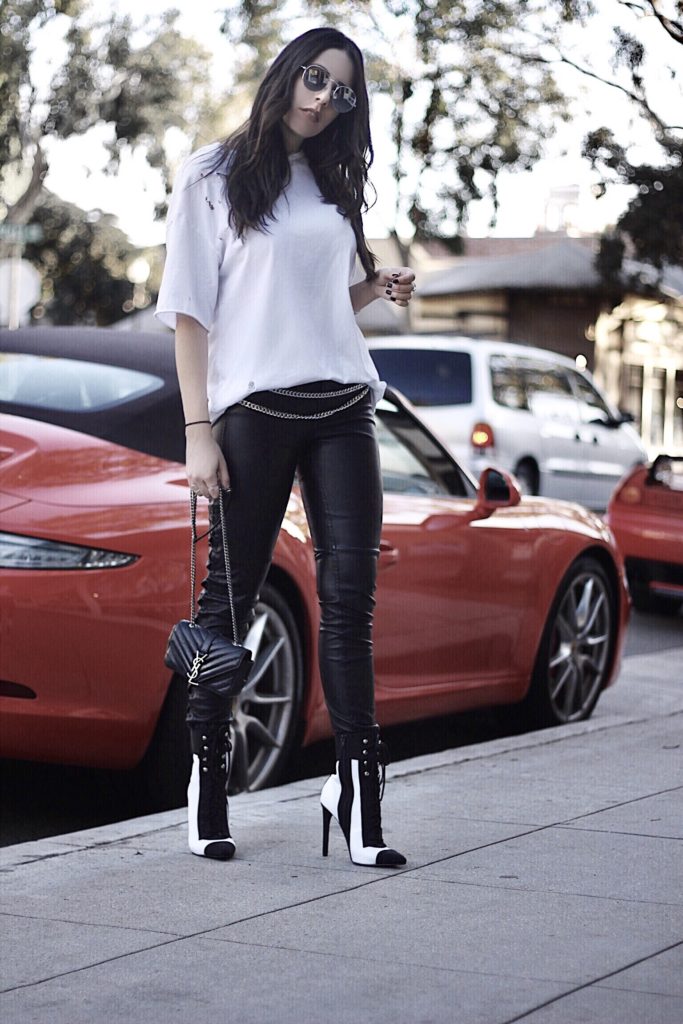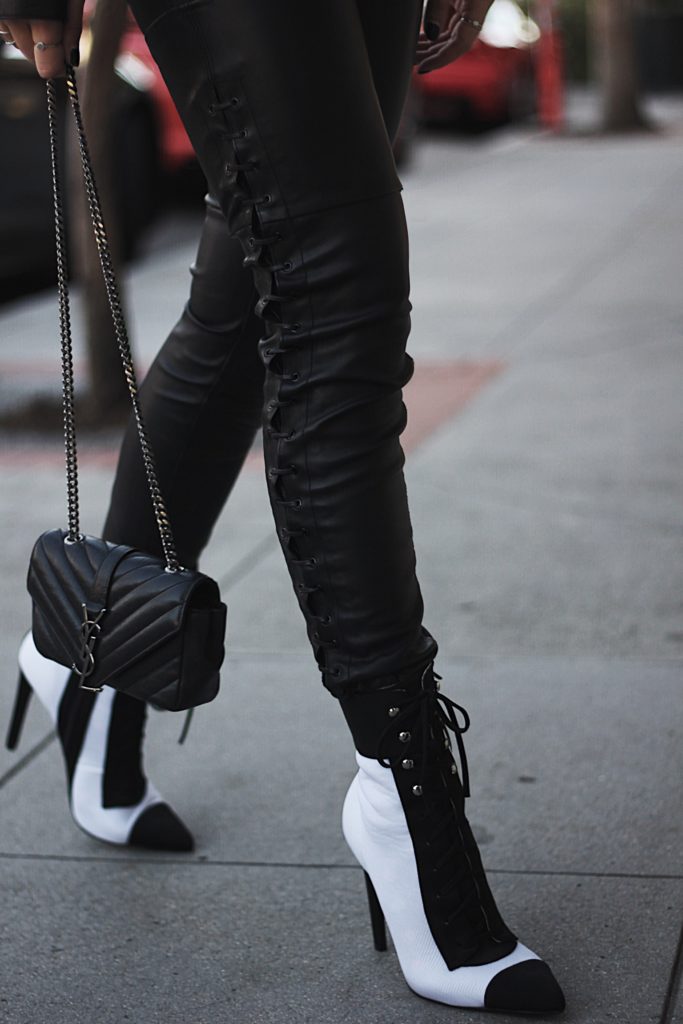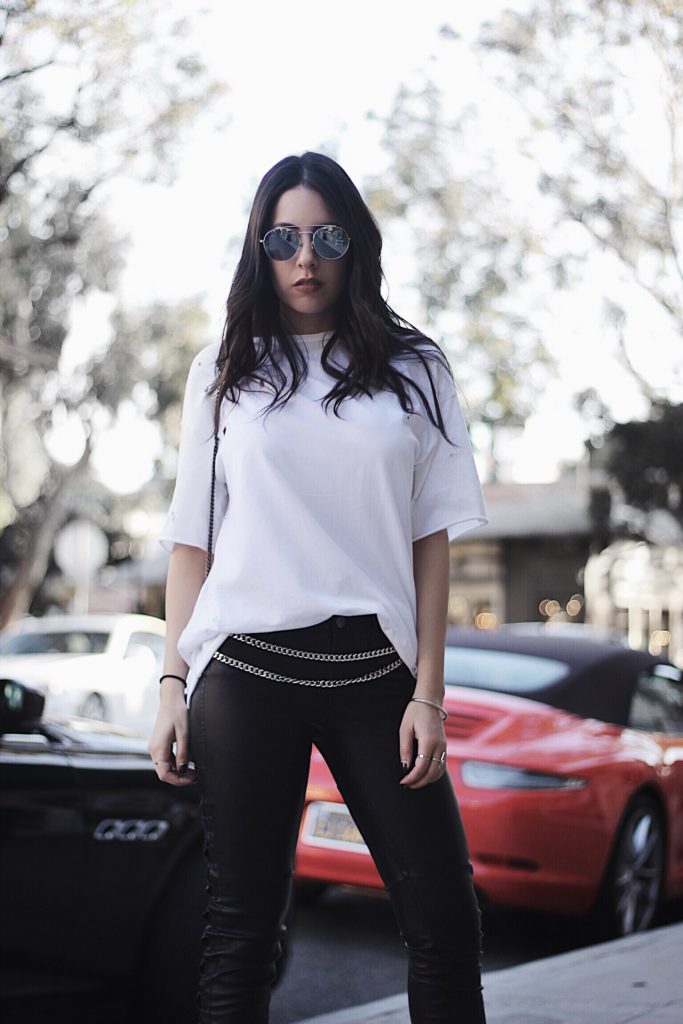 SHOP MY FAV LEATHER PANTS:
xo, Sami
In case you missed it, be sure to check out my new tab on the blog, Leather Lover, to shop my favorite leather jackets.